In the game of basketball, sometimes you need some intangibles to win.
Tonight, Boise State got those, in the form of a noisy crowd down the stretch, stepped-up defense, and playing though a 10-minute stretch in which their leading scorer was on the bench with foul trouble, to stop Utah 69-67 in Taco Bell Arena.
That the Broncos won with an uncharacteristic frigid night from behind the free-point line (4-14) is to their credit. It certainly wasn't pretty, but Coach Leon Rice's team advances to 7-0 with the win over the previously unbeaten Utes. That's the best start in school history. Getting it this early is one thing; keeping it is quite another.
This year's Broncos will have to go 9-1 over the next 10 games to match the 16-1 start by the 1987-1988 team.
The game was back and forth the entire way, with 14 lead changes. Utah grabbed their biggest lead of the night, 46-42 on a Kenneth Ogbe three-pointer with 12:16 remaining. They continued to hold that lead at 50-46 until an Anthony Drmic three-ball two minutes later.
Boise State regained the lead at the 7:52 mark when a jumper by Drmic found nothing but net to put the Broncos up 56-55. It was a lead that the Broncos wouldn't relinquish until Jordan Loveridge's three-pointer with just 1:52 left to put the Utes ahead 66-65.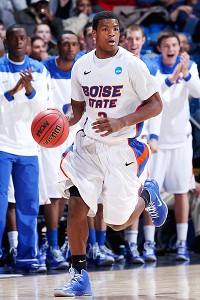 Derrick Marks hit a clutch jumper in the key with 52 ticks remaining to give Boise State a 67-66 lead. A defensive stop put Marks on the line. He missed the front end of a one-and-one, but Jeff Elorriaga made the defensive play of the game with a steal with 18 seconds remaining.
Marks was back at the free-throw line, and this time, he hit both shots to extend the lead to 69-66. Utah's Delon Wright made one of two free throws for the final points for either team.
Marks led the way with 17 points, while Drmic scored 14 hard-earned points and Mikey Thompson came off the bench for 13. Ryan Watkins stepped up his game in the second half to finish with eight points and 10 rebounds, including several key offensive boards.
Loveridge led Utah with 19 points while Wright had 15. Utah falls to 6-1 with the loss.
Boise State entertains Carroll College Thursday night in Taco Bell Arena.