Murray Satterfield, who was Boise State's head coaches for some outstanding junior college teams, and foresaw the transition as a four-year basketball school, has passed away.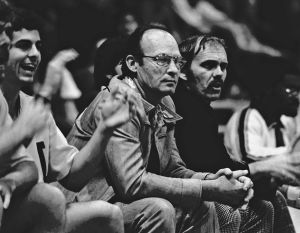 Satterfield took over as the head man in 1965-66, when the Junior College Broncos were 14-11. The following year, Boise State improved to 26-9 with a championship in the Intermountain Conference. The Broncos defeated College of Eastern Utah in the sub-regionals, then beat Nate Archibald and Western Arizona 89-86 and TVCC 83-61 to qualify for the NJCAA national tournament. The Broncos beat Dodge City, Kansas 91-77 before losing to Moberly, Missouri 70-50 and Powell, Wyoming 84-71.
The following year, the Broncos they were 26-5 in 1967-68, their best year ever as a junior college. Satterfield's team lost just three regular season games and repeated their ICAC conference title. BJC won the Region I tournament and once again qualified for the NJCAA national tournament. The Broncos lost to Miami Dade 62-55, beat St. Louis Baptist 66-64 in consolation, then lost 85-68 to Iowa Central.
Satterfield guided Boise State to a 19-8 mark in 1968-69, their first season as a major college basketball team. The Broncos were 20-8 the following year including a 90-74 win over Gonzaga and two wins over Pacific. The Broncos made the NCAA Division II Tournament, defeating Sacramento State 63-61 and losing to California, Riverside 83-71. Satterfield coached two-and-a-half more seasons, compiling a total record of 74-59, including 17-26 in the Big Sky Conference.
Satterfield's record of 74-59 is the third-best ever at Boise State. His 1968-69 team still holds the school record for holding opponents to 38.8% shooting. Among the players Satterfield coached were Ron Austin and Bill Otey, who helped Boise State make the transition to major college basketball.
Austin set a school record in 1970-71 that still stands, when he averaged 24.5 points per game. Austin also holds the school marks for career scoring average (20.5), free throws in a season with 194 (1970-71) and free throws attempted (247, also in 1970-71). Austin also holds the high-point game ever at Boise State with 42 against Montana in 1971, and he is #2 with 41 against Portland State and #5 with 39 vs. Montana, both of those also in 1971.
Otey's rebound averages of 17.3 in 1968-69 and 13.0 in 1969-70 are still 1-2 all-time.
Steve Wallace, whom Satterfield recruited, is #3 on that list with an 11.0 average in 1971-72, and he is fourth with a 9.8 average in 1970-71. Otey holds the school record for career rebounding with a 15.1 average from 1968-1970.
Rest in peace, Coach Satterfield, and thank-you for all you did for the Broncos!