Sunday, November 10, 2013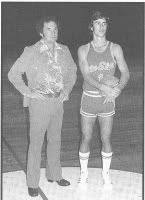 Sad to read in this morning's paper that Steve Connor has passed away at age 58 in North Carolina. Connor was the guard for Borah High School on one of the best high school basketball teams the state has ever produced, then as a four-year starter for Boise State and his father, head coach Bus Connor.
Connor finished his career in 1978 as one of the top players in Bronco history. He continues to hold school records for career scoring average (18.0), career assists (502), career field goals (771) and career field goal attempts (1,718). Connor is #2 all-time in points at Boise State with 1,927, third in career free throws with 385, third in free-throw attempts with 486, sixth in career free-throw percentage with 79.2% and eighth in single-season scoring with 530 points.
Connor also scored 490 points in the 1975-1976 season, helping Boise State win the Big Sky Conference Tournament and a berth in the NCAA Tournament, and 457 in the 1976-77 season. He was drafted in the 10th Round of the 1978 NBA Draft by the Washington Bullets, and played professionally in Europe and in the CBA.
I went to school with his brother, Ty, and worked with his younger brother Bret. Condolences to the Connor family during this sad time. Our thoughts and prayers are with them.
Posted by

Rocketman5000
at 7:12 PM
0 comments